Books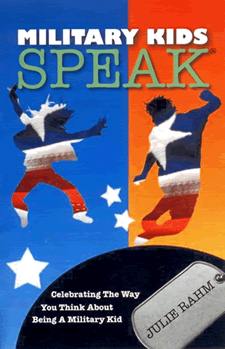 Purchase your copy of Military Kids Speak
Proceeds from book sales will go toward programs that inspire Military Kids.
Do you know children who are suffering from the fears, challenges and pain that come from being part of a military family? Are they having trouble focusing in school? Are they displaying feelings of anger or despair? Are they reacting with resentment?
Perhaps you are feeling the despair of not know how to ease their pain. Now you have the ultimate solution. Military Kids Speak teaches children that they are not alone, and offers solutions from peers on how to exhale back into the delights of childhood.
After reading this book, you and your children will never look at military family life the same way again. You'll be able to immediately interpret negative emotions and adapt to any situation. Living the military lifestyle will become a much easier task. You will have a better understanding of yourself, your reactions, and your family members. It's like your eyes will be opened to the world for the very first time.
Imagine being 10 years old again, standing in an airport or train station, and watching your mother or father board a plane or train for a war zone, not knowing if you will ever see them again. Many military kids have had that experience three times by age 13. With the right outlook, they develop emotional resilience beyond their years.
Celebrating the role military families play in the success of America as well as their individual accomplishments, Military Kids Speak by author Julie Rahm is a fascinating and inspired account of what it takes to be a military kid. It's a team effort with a common goal; the mission is to describe what it means to be a part of a military family, what it takes to persevere when it comes to deployments, and living abroad. It's also a candid account of the military lifestyle, and how special it is to be a child of a hero. In two parts and seventeen chapters with titles like "Military Kids Speak about Deployments", "Military Kids Speak about Living Abroad", and "Military Kids Speak about Making Friends", this engaging, conversational book begins with over two dozen essays written by today's military kids. These young authors, aged ten to sixteen, discuss the rollercoaster ride of military life, it's perks and privileges, as well as its hardships and heartaches, while the second half comprises twelve in-depth interviews with famous former military kids like Justice Leah Ward Sears, Newt Gingrich, Shaquille O'Neal, and Mark Hamill. Being a military kid is specia - a childhood spent with the military is an adventure. This first volume of Military Kids Speak is a narrative of what American kids of servicemen and servicewomen sacrifice for their country day in and day out all over the world - and what they have to say about it.
Fayetteville NC Military Children | North Carolina Children In War | North Carolina Military Family | Fayetteville NC Children In Military Family